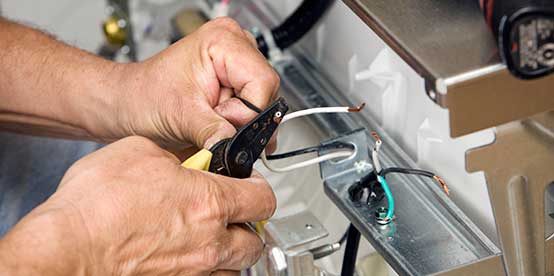 Your training at the Master Samurai Tech Academy focuses on understanding the technology used in modern, computer-controlled appliances and developing a disciplined troubleshooting approach to solving problems with them. These are the high-dollar skills that you need to have to be successful.
But disassembly and reassembly are definitely parts of the job. So what about hands-on training?
The answer for working techs:
Students who are current techs will naturally get hands-on practice, either by working on actual appliances during their daily service calls, or by participating on ride-alongs with a more experienced technician. Learn in your downtime, then apply the skills and knowledge during your service appointments, cementing your new knowledge with the hands-on practice.
The answer for techs not working at the moment:
Whether you're a complete newbie or in between jobs, there are work-arounds:
You can work on your own appliances, or those of your friends and family

You can get junk/used appliances (from Craigslist for example) to work on at home

Or you can dive straight into taking repair jobs on the side, starting very slowly
If you need help figuring out a work-around, we're happy to help.
Where to Get More Information If You Need It
Appliantology.org, YouTube, and the internet have made hands-on training pretty much obsolete.
Members at

Appliantology.org

(which includes all new Master Samurai Tech students and all Certified graduates) can download service manuals with detailed disassembly information and testing information.

YouTube has tens of thousands of free videos showing every kind of disassembly you can think of (worth checking out:

Repair Clinic

,

Appliance Parts Pros

, and

Parts Select

). 
Remember: anyone can use a wrench and screwdriver, especially people as handy as the members of the appliance repair industry, so we have every confidence that you can master the mechanical part of the job.