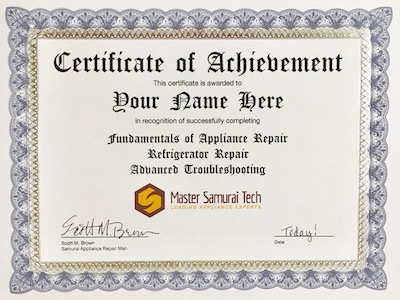 Ready to Be Certified?
If you've completed a course and met the target scores, it's time to show off your expertise to the world.
Request Your Certificate

You must be enrolled in one or more of our technical courses and logged in to the site to request a certificate!
Request Your Appliantology Membership
The Criteria for Certification
Certification is awarded to students who have:
Scored 80% or better on each unit quiz
Scored 90% or higher on each module exam (where applicable)
Scored 90% or higher on both the midterm and final exams (where applicable)
Note that the requirements are for each quiz or exam, not based on an average.
Core Appliance Repair, Advanced Refrigerator Repair, Advanced Oven and Range Repair, Advanced Washer and Dryer Repair, and Advanced Troubleshooting courses are all eligible for certification, though only certification in Core Appliance Repair comes with the free one-year membership to Appliantology.